Puppies/Recent Litters Sired
————————————————————————————————————————————–
At Kingsgold/Timberbash our goal is to contribute to the improvement of the Golden Retriever by evaluating all potential breedings for health, temperament and the
breed standard
. Before we decide to breed a litter we evaluate the pluses and minuses of the breeding to make sure it fits with our goals. We're more than happy to add you to our list for a puppy from a future litter – just complete the puppy questionnaire below.

 

We realize waiting for our next litter may not fit in with your timing for wanting a puppy. We encourage you to consider a puppy sired by our boys (see list below) or to visit the Mile Hi Golden Retriever Club breeder referral page. This is a great resource for finding Golden Retriever hobby breeders in Colorado and surrounding states.
Additionally visit the Golden Retriever Club of America's FaceBook page (https://www.facebook.com/GRCoA/) for great information on Golden Retrievers.
CeCe had 1 girl, 2 boys and 1 angel girl on 10/31/23 via c-section
. 
The 3 puppies are doing well so far although we are taking extra care with the smaller boy.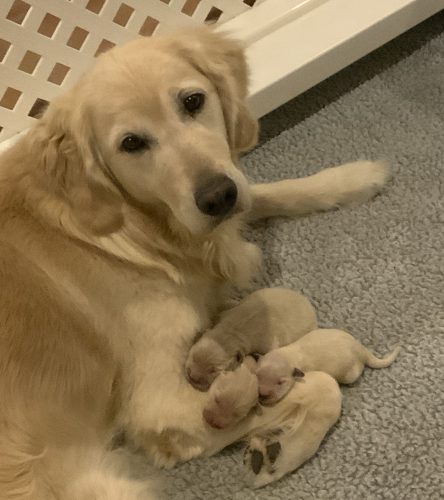 Kingsgold N Rio D'Oro Catch Me If You Can-Can

CeCe

Click

HERE

for CeCe's Health Clearance information

CeCe/Porter

CeCe was bred to Porter the week of August 28th.  This breeding ties back to CeCe's father's pedigree going back to the Highmark dogs and lines back on Coach "BISS CH Happy Hr Highmark Bad News Bears CDX SH AX AXJ OF WCX SDHF OS VCX.  CeCe will have an ultrasound in about 4 weeks to confirm she's pregnant.  If all goes well puppies will be born around Halloween.  We plan on keeping the pick bitch from this litter.  Click HERE is see combined pedigree.


CH Highmark Tomorrow Is Forever

Porter

Click

HERE

for Porter's Health Clearance information
 *** Recent Litters Sired ***
(updated 10/26/23)
Periodically, our boys sire litters.  At this time there are no upcoming litters sired by our boys.
Please continue to check back – I update this page anytime new puppy information is available.
—————————————————————————————————————————————————————-
Click HERE to download our Questionnaire for Potential Puppy Buyers. If you are interested in a puppy please complete the questionnaire and send it us or give us a call – we're happy to answer any questions you have. We're also happy to refer you to other small hobby/show breeders we know who may have puppies available.
Click Here to download a sample of our Puppy Deposit Form. We do not accept deposits until after the puppies are born and we are relatively sure we have a puppy to offer you.
Click HERE to download a sample of our Limited Registration Purchase and Sale Agreement. All our pet puppies are sold on a limited registration and must be spayed or neutered between 18 and 24 months old.